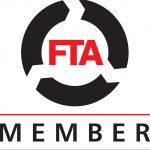 QS Recruitment Regional Director, Paul Keyworth, is elected as Vice – Chair of the FTA Regional Freight Council
QS Recruitment Ltd, as a major supplier to the transport sector, joined the Freight Transport Association in March 2016 and are pleased to announce that Regional Director, Paul Keyworth has been elected as Vice-Chair of the East Midlands Freight Council.
Freight Transport Association (FTA) is one of the UK's largest trade associations and represents the transport interests of companies moving goods by road, rail, sea and air and businesses supporting the industry.
"It was a natural step for us to join the FTA, given our emersion in the logistics sector, and we are delighted with the election of Paul to this role. The FTA provides us with a valuable insight into the transport sector and in turn we can offer relevant and practical knowledge of the local issues and concerns within our sphere. The relationship is therefore truly mutually beneficial" commented Peter Gillespie, Managing Director of QS Recruitment.
As Vice Chair, Paul will deputise, for the Chairperson in the quarterly Regional Council Meetings, held in Nottingham and attend National Council. With over 30 years' recruitment and transport training experience Paul contributes to the sector meetings by providing insight and comment on the issues relating to the local sector.
Commenting on his election Paul points out that "one of the most significant benefits of membership is the access it gives to information on local and national issues as well as the opportunity to influence national policy. The Freight industry plays a key part in the local economy and, as a recruiter specialising in the supply to this sector, it is great to have a role to play outside of the confines of our business".