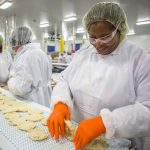 We are proud to announce that, following an inspection and testing by the Gangmasters Licencing Authority, Quality Service Recruitment have been awarded a GLA Licence.
Managing Director Peter Gillespie comments "we applied for the licence following requests by a number of our existing clients that wanted us to not only supply logistics staff to their businesses but to also provide workers to areas regulated by the GLA.  Whilst we are not surprised to be granted a licence we are immensely proud that we have been found to be compliant with the high standards set by the Authority without having to make any changes to our current practices or procedures.  We will now use this opportunity to expand our offering to both existing and new clients and will focus in the first place on the food processing and packaging sectors of business"
The GLA was established in 2006 to protect workers from exploitation. The licensing scheme regulates businesses who provide workers to the fresh produce supply chain and horticulture industry, to make sure they meet the employment standards required by law. Any labour provider that wants to supply workers into regulated sectors must subject itself to a strict assessment to check they meet the required standards which cover health and safety, accommodation, pay, transport and training. They also check that a supplier is fit to hold a licence and that tax, National Insurance and VAT regulations are met.
If you use workers within your business that are working within a GLA regulated sector and would like more information about how we can help you achieve your goals please contact us; we are here to ensure your success.