Office Staff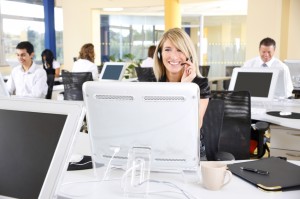 What can we offer clients that have either short term (temporary) or permanent vacancies in their office?
A greater choice of workers to select from – we use medias ranging from internet job sites to local job centres to recruit skilled workers.  Each year we generate in excess of twelve thousand candidates.  On average only fifty percent of these applicants will be invited to interview and less than twenty five percent will go on to be selected for work.  The large scale recruitment operation we have in place is there to ensure that we have a wide choice of workers from which to select the most suitable for the assignment in hand.
Experienced workers – we will agree with you in advance what skills are required for the role and recruit based on your job specification.  We will test the skills of the applicant and thoroughly check their references and previous working history to ensure that they meet your requirements.
Suitable workers guaranteed – If you are uncertain as to whether or not we are able to provide the member of staff you require, we can place an individual with you free of charge for a skills assessment prior to them commencing work.  Additionally, we are so confident of our Recruitment and Selection procedures and the ability of our Consultants to match worker and assignment that if we provide an unsuitable worker we will not charge you for that person (subject to our Terms & Conditions of Business).
A bespoke recruitment package – as an independent business we are not governed by a national business policy or by the restraints often placed on a franchisee.  We offer our clients a package which will meet their requirements.  If our client wishes we can even offer on site management and recruitment.
Flexible recruitment solutions – we provide workers to cover any form of temporary assignment; from unplanned absences to maternity cover.  We will also recruit on your behalf to fill permanent positions, charging wither a fixed fee or a fee for the workers services for a fixed period of time before allowing the worker to transfer to your business free of charge.
Your Choice – You can decide how involved or uninvolved you wish to be in the recruitment and selection process. We can manage the entire process, or you can be part of every step of the process from screening applicants C.V's to telephone, or face to face interviews prior to them being accepted for the assignment / position.
Whatever your Recruitment needs, we will meet with you, listen to you and provide a suitable solution.  We guarantee it!