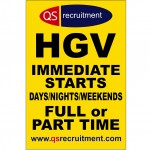 There has never been a better time to be a HGV driver. Choose from a wide range of well paid jobs, with hours of work to suit your needs
We currently have long term temporary and permanent positions for HGV class 1, HGV Class 2 and 7.5 tonne drivers at locations through out Nottinghamshire, Derbyshire, Staffordshire, North Leicestershire, Lincolnshire and South Yorkshire.
Our clients range from household names to independent hauliers.  The choice of work and rates of pay available have never been better.
Please look at our vacancies page or call and speak to your nearest branch (details on the Contact Us page) to discuss your options